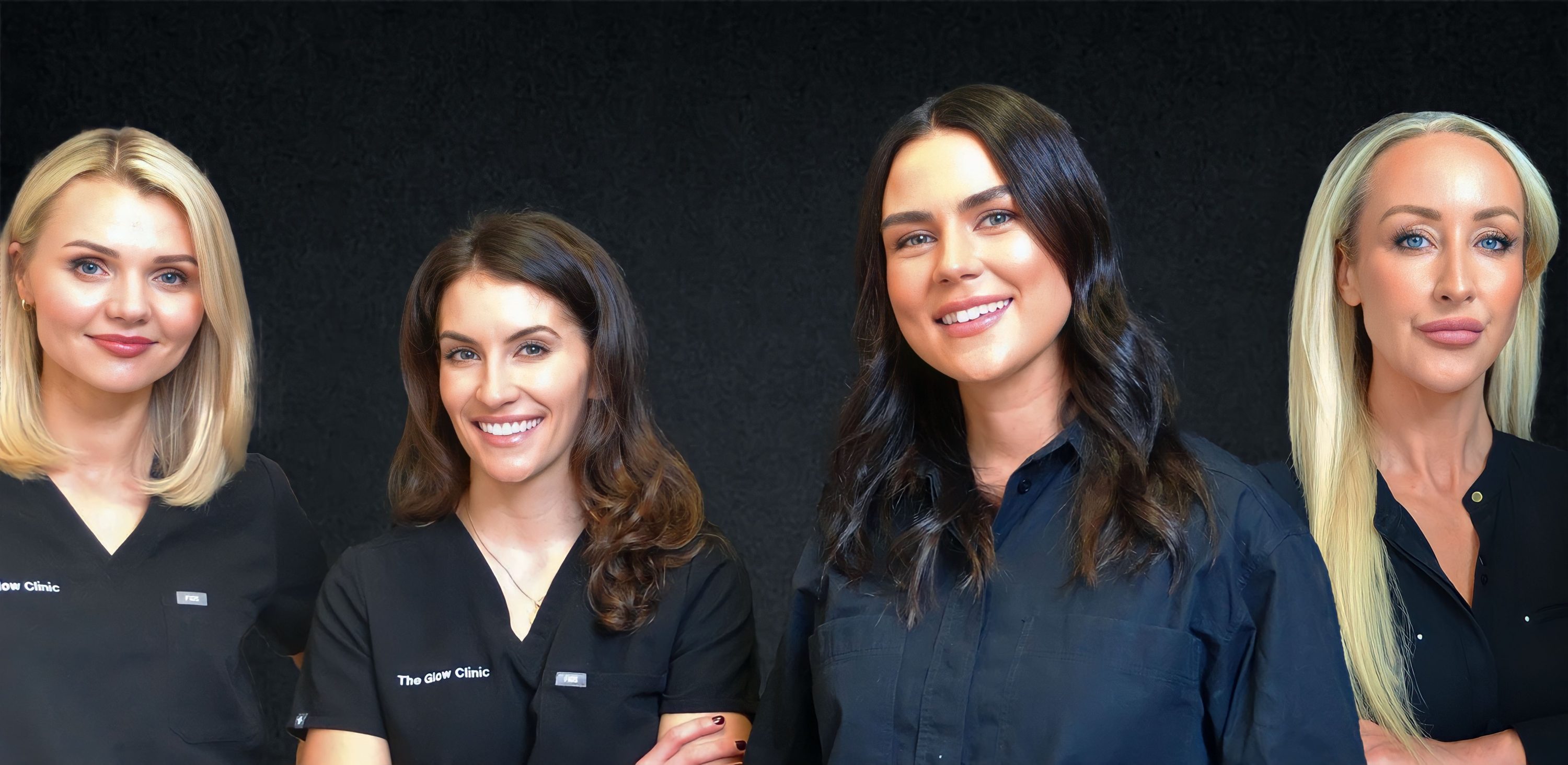 The Glow Team
Our team members are all passionate about helping you uncover your natural glow. We each have our own strengths and particular favourite treatments, and love working together to help everyone who walks through our door look and feel their very best.
Dr. Jennifer Owens BDS, MSc Aesthetic Medicine

Jennifer is a qualified dentist, aesthetic medicine practitioner, makeup artist and yoga teacher. She has years of dental aesthetic, orthodontic and aesthetic medicine experience, and an MSc in Aesthetic Medicine from St Barts.

She is a member of the American Academy of Aesthetic Medicine, the American Academy of Anti Aging Medicine and a trainer in injectable treatments in COSMED Aesthetic Training Academy. This allows her to assess and treat in a holistic manner, and achieve natural results, tailored specifically to each patient.

Dr Jen's favourite treatments include neck rejuvenation, nonsurgical nose reshaping and refining the jaw area with a combination of fat dissolving, muscle relaxing injections and dermal filler.

Dr. Caoimhe Fitzgibbon BDS

Caoimhe is a cosmetic dentist with a particular talent for anti-wrinkle injectables that looks you have gotten a few extra hours of sleep, rather than any help from a needle. She is on the Allergan

Natural results are her forte. Caoimhe is passionate about skin health and loves an Obagi Radiance peel to help boost skin glow. Wow fusion and SkinPen microneedling are also treatments Caoimhe is passionate about. She suffers from dry skin herself, and especially loves helping people with dry and sensitive skin as a result.
Lina Cvetkoviene

Lina is our pHformula expert and responsible for some of our most popular skin treatments. These include microneedling with both SkinPen and Wow Fusion, customised chemical peels and skin resurfacing treatments from Obagi, Wow and pHformula. She is an expert in skin resurfacing with pHformula and the go-to person in the Glow Clinic for skin that needs a little TLC or even a full refresh.

After obtaining her Diploma in Beauty Therapy, Lina has since completed advanced training in skin resurfacing and microneedling and she is on hand to help even out skin tone, stimulate collagen and even help make those pesky pores less obvious.

Lizette Dalcos

Lizette joins us from South Africa, where she completed her formal education in 2003 before embarking on a professional journey that culminated in the attainment of her Diploma in Beauty Therapy in 2011. Currently married with two children, aged 7 and 3, Lizette has recently relocated to Ireland, a move driven by her aspiration to gain broader international exposure within her chosen field.

Commencing her career with a renowned beauty franchise in South Africa, Lizette honed her skills in a diverse array of treatments, encompassing SR and HR laser therapy, permanent makeup application, chemical peels, diamond tip microdermabrasion, and radio frequency therapies designed to address cellulite reduction and skin firming. Her dedication to excellence in this domain led her to acquire formal qualifications in these treatments, culminating in her ranking fifth within her professional cohort. Additionally, her exceptional performance achievements in 2015 established her as a top performer within her organization.

Driven by a deep-rooted passion for beauty therapy, Lizette co-founded a business venture alongside her sister, fostering a commitment to continuous learning and skill enhancement within the industry. Possessing a wealth of practical experience, she brings a comprehensive skill set to The Glow Clinic, one that encompasses a wide spectrum of advvanced skin treatments.

Among her favored treatments, Lizette holds a particular affinity for microneedling and chemical peeling procedures due to their ability to yield immediate, visible results. By joining The Glow Clinic, Lizette aspires to broaden not only her own professional horizons but also contribute to the continued growth and success of the clinic itself.
Susan Lafford Jacob

A lifelong fascination with lotions and potions propelled Susan into a career spanning over a decade in the Australian skincare industry.
Working with international medical grade brands and also with organic skin products helped her to gain a more holistic perspective on how best to achieve that inner and outer glow we seek. She is always delighted to see the natural results achieved in the clinic.

With a background in both customer care and holistic therapies Susan offers a warm welcome at The Glow Clinic and is there to help you with any queries you may have.